The Ministry of Supply Apollo shirt: does it live up to the high-tech claims and lofty price tag? Is it worth it? I even lifted weights in this tech-fabric dress shirt to really see what it was made of.
The Apollo shirt is a wrinkle-free, high-tech dress shirt for men that stretches, breathes and moves well. In this review of the Apollo shirt, I'll tell you my experience and whether or not it lives up.
A Review of the Ministry of Supply Apollo Shirt
I'm going to give a thorough review of this dress shirt, which even includes a workout that I did while wearing it. Yes, I lifted weights, squatted, pushed a sled and did push ups while wearing this dress shirt.
And, it actually went pretty well. Read to the end for more of this workout.
Disclaimer: this article contains affiliate links, meaning if you purchase a product through a link I may receive a commission at no additional cost to you. I received a free dress shirt in exchange for my unbiased review.
In Today's Review: Fit, Fabric, Wrinkle-Resistance, Movement, Look, and Overall Value.
So one thing to know about me: I'm a former athlete and sometimes have a tough time fitting well into dress clothes because of my wide back and thicker legs.
But basically, if clothes can fit me, then they should be able to fit you (within reason).
This shirt was cut really well for me.
If you wanna jump right to browsing, you can find the shirt in numerous colors on Ministry's website here.
Fit & Look of the Apollo Shirt
I'm not sure exactly what it is about the cut and fit of the Apollo shirt, but it made me look kinda strong. It wasn't too slim, but fit my wide back pretty well and I think the cut of the shoulders was what made me really like how I looked in it.
So if you're a fit, more muscular / athletic type like myself, I'd venture you'd be a fan of how it fits.
I'm going to have an incomplete opinion for those who are really slim or really, really big, but for someone like myself who is more muscular than average ( I'm 6'0″ and 200lbs), the shirt is terrific.
The Fabric: Stretchy, Light, Moves Well. Wicks sweat and dries fast.
Things to know about the Apollo shirt:
The fabric feels very light
It has a very "dry" feeling to it (if that makes sense?)

Some tech fabrics have a denser? kind of feeling to them, but this one doesn't. It feels very much like soft cotton, but airy. If that makes sense…

It stretches very well and moves well with you. VERY good movement.
It gets a little darker when wet from sweat (I walked around the city in this shirt on a hot day) but dries fast.
Sweat-wicking overall is very good and the shirt doesn't get heavy.
Wrinkle-Resistance: Good. But Still Iron the Collar.
Yeah, this shirt really doesn't stay wrinkled–their claims there are true. The heat of your body keeps it smooth, so just get moving and you'll be good to go.
However, the collar definitely needs a little hit from an iron to stay sharp. I'd still recommend ironing the collar.
How it Performs in the Heat: Pretty Well
So I wore my Ministry of Supply kinetic pants and Apollo shirt on a long weekend in Chicago, as well as around Boston and DC. The long day in Chicago was especially telling, as I was in the sun walking for a few hours on a really warm day in early August.
But if you are on your feet a lot and enjoy being on the move, especially as a city inhabitant, this shirt can really shine.
A Great Shirt For Active Professionals.
As someone who loves walking around the city and not being miserable while doing so, tech-fabric is a must. I die by my casual-but-nice-looking Lululemon ABC pants, but they don't fit the bill for dressier uses.
If you're interested in Ministry's Kinetic Pants, check out my review of them here. They're really, really good (and that's coming from a Lululemon diehard!).
And for shirts, cotton gets pretty miserable in the heat, even with stretch built in. My Express 1MX shirts are nice, but not in the summer, not on the move.
The takeaway is that I was still really comfortable, despite being in the sun in dress pants and a dress shirt the entire day. Everyone else was in shorts and t-shirts, enjoying a beautiful late summer day in the city.
Overall Value & Who The Apollo Shirt is For
The Apollo shirt is priced at $125, so it's expensive, especially if you want to convert your wardrobe to tech-fabric and get away from cotton.
So if you're going to hit the pavement and want to stay comfortable over long days at work and client meetings or in presentations, the $125 price tag may be worth it, especially if you start with a white or blue color that can fit a universal use in your wardrobe.
…But Can You Work Out in Them?
Not that you would…but yes–I did this, and it was surprisingly okay.
Sure, working out in dress clothes is stupid and serves no purpose.
But, I wanted to see how they stretched and moved with me, wicked sweat and allowed me stay cool.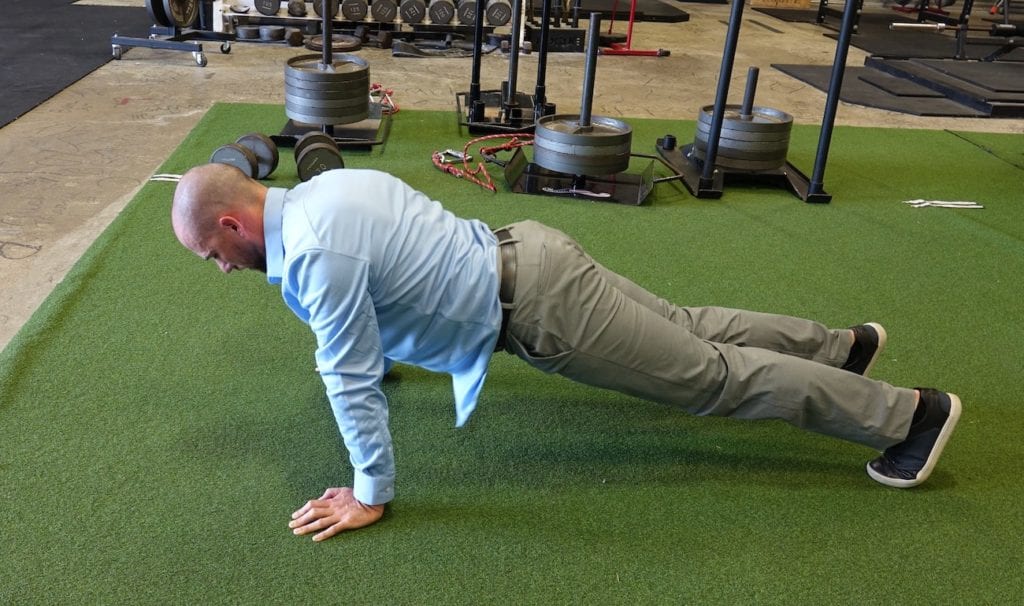 Overall, as I worked out in a pair of Kinetic Pants and an Apollo shirt, I was able to do any exercise like I normally would. I squatted to depth, pushed a sled, banged out push ups and did chin ups–all were completely fine while wearing dress clothes. I could move and didn't feel suffocated.
So, if they're good enough to survive the gym, they're good enough to survive the office.
Where to Buy Your Own Ministry of Supply Apollo Shirt
Buy direct from Ministry Supply's website.
Thanks for reading this Ministry of Supply Apollo Shirt review–I hope it helped!